Don't roll your eyes.

Trust me, the holidays will be here before you know it!
Again this year I am striving to do a Make It or Bake It holiday season.

I have a large blended family and it's always fun for everyone to have a little something to open.

I know not everyone is observant of the same holidays, but there's nothing like taking a little time to show the people in your life how much you truly love and appreciate them.
There are many challenges to making gifts for other people.
Time, money, time, materials, more time, and finding those creative gift ideas that you know your family and friends will love, use and enjoy.
My gift list includes about 30 people.
It includes my family, Sig. O's family and a couple of close friends.
Seeing that list is overwhelming, so every year I try to make something I call "gift canvasing".
Simple little gifts that can be given to a variety of people, male and female, young and old.
These are gifts that are fairly easy to make in multiples and (depending on your style) don't necessarily need individual customizations.
For me, it's usually the standard treat plate, but this year I'm trying to mix it up a little bit.
Here are some ideas that I've put together for gift canvassing.
I know some of these won't get made until the last minute, but it's nice to be able to plan ahead and tick several people off my list early.
Hot Chocolate Kits are fun way to to spread some cheer! This super great tutorial was put together by Kristi at 30 Pounds of Apples. Four simple ingredients is all it takes to whip these puppies up. Chocolate, cocoa, powdered sugar, and marshmallows. You could make them even more festive by using a peppermint stick for the stir rod. Yum!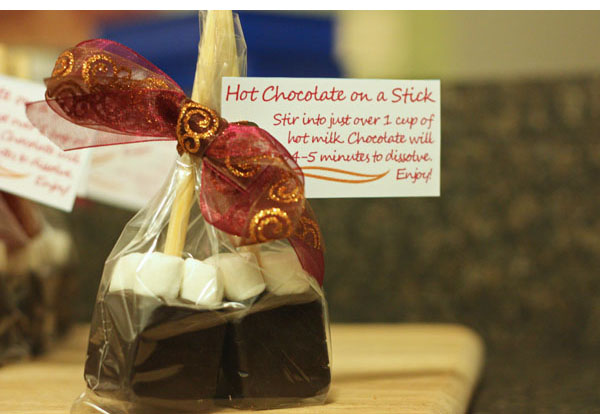 Handmade Soaps Here's a simple tutorial for a handmade herbal soap by Caroline at Henry Happened. Melt glycerin soap (available at craft stores and online) in the microwave, stir in your favorite herbs and citruses, and pour into any plastic or cardboard container. If you're feeling really adventurous be sure to check out the SoapQueen for some really amazing melt and pour tutorials.
Henry Happened
Soap Queen
Coasters Try papering ceramic tiles or rubber stamping/hand painting designs on field stone tiles. Tiles can be bought for super cheap at local home improvement stores. Cut papers to size and attach with Mod Podge and cover with an acrylic or polyurethane spray (available in the spray paint aisle). If stamping tiles allow the tiles to dry thoroughly before spraying or the ink may run. When dry, attach felt feet to the bottom and tie the stack with twine or pretty ribbon. I made these for Sig. O a few years ago. For a more Manly-Man version I bought slate tiles and simply added the feet to the bottom. I also had a gold paint pen so I could leave a personalized message on the back of each one.
Chalk Board Frames These cool creations are the handiwork of Cyndy at the Creativity Exchange. I am so in love! I can't wait to make a couple to hang up in my own house. Take a thrift store frame. Clean the glass with alcohol. Rubbing alcohol... that is. One layer of primer and two coats of chalkboard paint. Easy, peasy. Don't forget to wrap these up with their own piece of chalk!

Custom Mugs and Bowls Handpainted thrift/dollar store ceramic mugs and bowls. All you need is a Porcelain Paint Pen, available at most craft stores. When finished bake as directed to make your designs dishwasher and food safe. Here is Connie's take from Measured by the Heart:
Mason Jar Gifts Fill mason jars with your favorites! Chex mix, granola, jams, cookie mixes, body scrubs, etc. The possibilities are endless. You can even punch a hole in the lid and add a pump for a homemade upcycled soap dispenser.
Ok, whew! That got long quickly. Like I said, I know it's super early, but when you're on a tight budget it pays to plan ahead. Now is it just me, or has anyone else started planning? :)